Sixth Sunday after Pentecost
READINGS FOR THE COMING WEEEK
First reading and Psalm
Alternate First reading and Psalm
Second reading
Gospel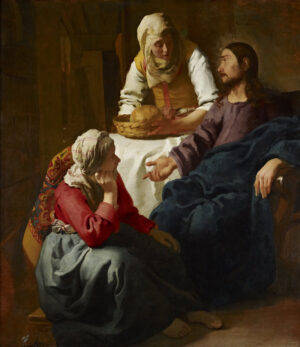 The gospel from Luke:
Now as they went on their way, Jesus entered a certain village, where a woman named Martha welcomed him into her home. She had a sister named Mary, who sat at the Lord's feet and listened to what he was saying.
But Martha was distracted by her many tasks; so she came to him and asked, "Lord, do you not care that my sister has left me to do all the work by myself? Tell her then to help me." But the Lord answered her, "Martha, Martha, you are worried and distracted by many things; there is need of only one thing. Mary has chosen the better part, which will not be taken away from her."
Notes:
A short essay on the artistic and spiritual meaning of this artwork is available from The Visual Commentary on Scripture,   https://thevcs.org/jesus-visits-martha-and-mary/sibling-harmony.
Sermon
After conducting a memorial service the day before, Pastor Stevensen feels that the church is reaching out but people are not listening. Only at funerals, the bereaved families are interested in religion. There is a book about a mountain climber who was killed and a survivor just wanted someone to sit beside him. Pastor has two motivations for a funeral sermon. One is that the family has requested it. The other is that the family may follow with worship. To convince people to value prayer one can interest them with some history. The mother of the deceased, one of our members, Raymonde, wanted to know why her daughter had died and not her. Where is God? The epistle to the Galatians begins with doubt and question but ends with compassion. The hymn Great is Thy Faithfulness has an answer…………….
# # #