Dr. Stevensen holds a "tent-making" ministry (as did the apostle Paul) at St John Lutheran. He teaches electrical engineering and computer science at USNH as well as serving St John as our minister.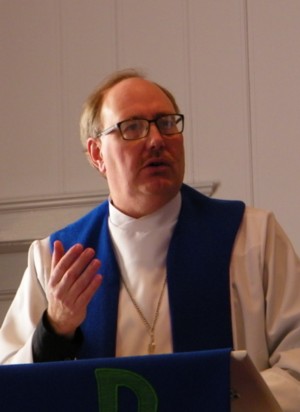 Our Pastor's Background
Dr. Stevenson graduated from Michigan Technological University with high honor, earning a degree in electrical engineering. He attended graduate school at Purdue University, earning MS and PhD degrees in electrical engineering.
He completed his theological education at the Yale University Divinity School, earning both Master of Divinity (M.Div) and Master of Sacred Theology (STM) degrees. For his STM thesis, he applied theological reflections on human suffering from early Lutheran writings to a contemporary ethical problem. He also completed a unit of Supervised Clinical Ministry with Lutheran Social Services of Ohio.
After graduation, he joined the Machine Perception Group at General Motors Research Laboratories. Following an extensive career at GMR, he worked for Delco Electronics and IBM, and then a position at MIT Lincoln Laboratories brought him to the Boston area. During his engineering career he worked on robotic and other factory automation systems, collision warning systems, anti-lock braking systems, telecommunications hardware, and the design of novel image sensors. He taught computer science at Salem State University and he has been teaching electrical engineering and computer science at SNHU.
Our Pastor's Writing
Reflections on "The Road to Emmaus" (Luke 24: 13-35)
As the pastor of a small church, I try to keep my focus by reminding myself that the Bible speaks to today's problems, not just those of yesteryear. The lectionary selections do as well. Not always, of course, but often. This is very true with this week's lessons from Acts, 1 Peter, and the Gospel According to Luke. With the shutdown of churches, many Christian leaders are asking
themselves how they might understand and practice worship when the church is physically closed. I have read that there are spirited debates about the practice of celebrating the Lord's Supper while churches are closed. This week's lessons speak directly to those issues by helping us to understanding the meaning and purpose of celebrating Holy Communion.
I found myself drawn to two different ideas in the lectionary, which then became woven together as I used them to reflect on Christian worship. In his speech in Acts and in his letter, Peter provides an executive guide to the faith, just the essentials, if you will, with a strong focus on the forgiveness of sins. Luke recounts for us the encounter between two followers and the risen Christ, wherein they and his readers gain insight into holy communion.
The authors of the lectionary selected for us a speech by Peter in Acts and an excerpt from his letter 1 Peter with the same themes. Peter outlines the central Christian teaching: humanity has turned its back on God, instead choosing "futile ways," sin in Biblical parlance. Humanity will face God's judgment for these actions. But instead God offers the sacrifice of his son Jesus Christ to save us from God's judgment. His speaking and writing are simple and direct in a kind of Joe Friday style – where just the facts are given. Explanations, weasel words, and later glosses are simply not there. Peter saw it firsthand and he reports simply in way that Joe Friday would like. These readings fulfill our need to have the central message of Christianity ever before us. We hear this message each week in church: Almighty God, in his mercy, has given his Son to die for us, and for his sake, forgives us all of our sins. When we turn to Luke we learn of an encounter by two people with Jesus on the road to Emmaus.
This is a genuine historical encounter, told with rich narrative details to emphasize certain church teachings. The first of these teachings is simple and direct: we encounter Jesus in holy communion. With most churches closed due to the current pandemic, many pastors are concerned about missing the celebration of Holy Communion with their congregations. I was astonished by the many unusual suggestions that are beingmade, as I read on the local ELCA's bishop's blog site: So-called virtual Communion and its accompanying cousins of Drive-Thru Communion or the more costly Drone Delivery of Communion are alternative ways for the Sacrament of Holy Communion to continue to be practiced during these days of
sequestered Christian worship. To emphasize his point, or perhaps for humor, the bishop included a photograph of a drone delivering communion wafers. To be fair, that particular bishop is opposed to "virtual
communion," where congregants eat bread at home after watching their pastor consecrate bread
on YouTube.
Before we evaluate these proposals, we might consider how the Lutheran community has understood the central meaning of the Lord's Supper. For us, the central meaning of the sacrament found in the words we hear. "This is the body of Christ, given for you. This is the blood of Christ, given for you." To use Augustine's famous phrase, the sacraments are the Word made visible. The Word is the word of God.
For Luther, baptism and the Lord's Supper are simply clear forms of the gospel – the forgiveness of sins for the sake of Jesus Christ. In his great treatise, The Babylonian Captivity of the Church, Luther was to write, "…the mass is nothing but the aforementioned words of Christ," by which Luther means the word: "This is my body, given for you. This is my blood, shed for you and for the forgiveness of sins." He was to write that all a Christian needs is faith in these words.
We have come full circle, as people say. We are back to where we began with Peter's proclamation of the forgiveness of sins. I would prefer to avoid being drawn into a debate about virtual communion or drone communion, but if I were, I would begin by pointing to those sections of The Babylonian
Captivity where Luther cautions against superstitious understandings of the sacrament. Instead, we are to focus on the word of God which proclaims the forgiveness of sin.
As Luther would write, "Where the word is, there is the church."