We extend a warm welcome to all who gather for worship and fellowship in the name of Christ our Lord. St. John is a congregation of God's people worshipping and witnessing in the Reformation tradition, cherishing the gospel of Jesus Christ and the insights rediscovered by the Reformers.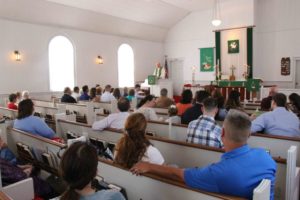 WHERE ARE WE?
St. John is located at 32 Ellsworth (Ellsworth at King), in one of Peabody's historic residential neighborhoods on the top of a hill above Peabody's old tannery sites. 
HOW TO GET HERE
From Route 1 or 128 E, take Lowell Street E, turn right at light at King, proceed to church.
From Route 114:  Go south into Peabody, continue onto Central Street, turn right onto Endicott Street, at light continue onto King.
From Route 128 W, exit at Route 114 S.  
Note:  Please contact us regarding handicap accessibility.  For people for whom stairs are difficult, video and audio of the service are provided on the lower floor.                
SERVICE SCHEDULE
Sundays
8:30 a.m. Christian Education (Sunday Church School)
9:30 a.m. Traditional Worship
10:30 a.m. Fellowship Time
SPECIAL SERVICE SCHEDULE
Christmas Eve:  December 24 at 7:30 p.m.
Memorial Service:  Date and time to be announced.

FOR MORE INFORMATION
Please call our office at 978-531-1731