Seventh Sunday of Easter
READINGS FOR THE COMING WEEK
First reading
Psalm
Second reading
Gospel
The gospel from John:
After Jesus had spoken these words, he looked up to heaven and said, "Father, the hour has come; glorify your Son so that the Son may glorify you, since you have given him authority over all people, to give eternal life to all whom you have given him. And this is eternal life, that they may know you, the only true God, and Jesus Christ whom you have sent. glorified you on earth by finishing the work that you gave me to do.
So now, Father, glorify me in your own presence with the glory that I had in your presence before the world existed. "I have made your name known to those whom you gave me from the world. They were yours, and you gave them to me, and they have kept your word. Now they know that everything you have given me is from you; for the words that you gave to me I have given to them, and they have received them and know in truth that I came from you; and they have believed that you sent me.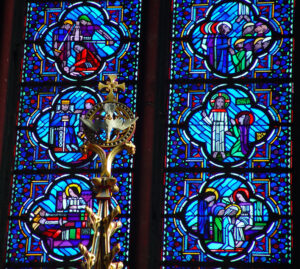 I am asking on their behalf; I am not asking on behalf of the world, but on behalf of those whom you gave me, because they are yours. All mine are yours, and yours are mine; and I have been glorified in them. And now I am no longer in the world, but they are in the world, and I am coming to you. Holy Father, protect them in your name that you have given me, so that they may be one, as we are one.
Notes:
On the left, bottom to top: Angel appears to the Three Wise Men, warning them not to go back to Herod; Herod commands his soldier to carry out the massacre of young children; the massacre of the innocents. On the right, bottom to top: the three Marys at the tomb; Mary Magdalene before the risen Jesus; the disciples as Jesus ascends to heaven.
Sermon:
Today Pastor Stevenson spoke on relevance of scripture. Our readings today seem unworldly. We instead tend to focus on ourselves. Today we see John's use of the word "glory" in the gospel reading. Vanity is displayed. People often say that the glory of God is shown in that He is all powerful. The glory of God is shown by the Cross. Today is the final Easter Sunday. We move thoughts from the Resurrection to the coming of the Holy Spirit as the Christian church spread. Tradition says that the Holy Spirit takes the place of the Crucifixion and the Resurrection. The Holy Spirit reminds us of the Crucifixion. Pastor spoke further about the relevance of this.
# # #