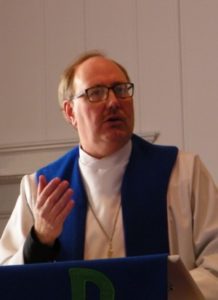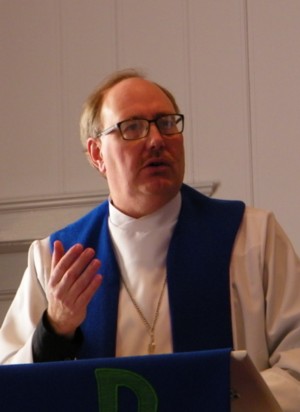 Pastor Stevenson is on the active clergy list for Lutheran Congregations in Mission for Christ (LCMC). He is a member of the Cross Alone District in LCMC, which is a group of clergy and lay people who are dedicated to preserving and passing on the insights of the reformers to the next generation
Pastor Stevenson enjoys the challenges of a "tent-making" ministry at St. John, where he combines his teaching and mentoring of students at Daniel Webster with the opportunity to minister to the people of St. John and to conduct outreach programs to the North Shore Community.
Pastor Stevenson completed his theological education at the Yale University Divinity School, earning both Master of Divinity (M.Div) and Master of Sacred Theology (STM) degrees. For his STM thesis, he applied theological reflections on human suffering from early Lutheran writings to a contemporary ethical problem. He also completed a unit of Supervised Clinical Ministry with Lutheran Social Services of Ohio.
Dr. Stevenson graduated from Michigan Technological University with high honor, earning a degree in electrical engineering. He attended graduate school at Purdue University, earning MS and Ph.D degrees in electrical engineering.
After graduation, he joined the Machine Perception Group at General Motors Research Laboratories. Following an extensive career at GMR, he worked for Delco Electronics and IBM, and then a position at MIT Lincoln Laboratories brought him to the Boston area. During his engineering career he worked on robotic and other factory automation systems, collision warning systems, anti-lock braking systems, telecommunications hardware, and the design of novel image sensors. He taught computer science at Salem State University and he has been teaching electrical engineering and computer science at Daniel Webster College.
Email Pastor Stevenson at: stjohnpastor@earthlink.net
Or feel free to use the contact form below: